FRIDAY, OCT. 22, 2021 @ 7:30 PM
VIP Romanian-American Businessmen's Meet-and-Greet
dinner & networking
THE TICKETS FOR THIS EVENT ARE SOLD OUT.
THANK YOU ALL for your understanding!
*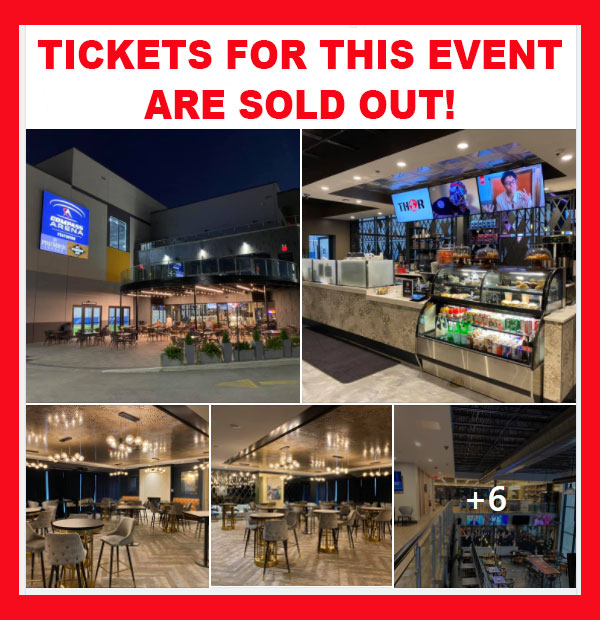 *
FOR ADDITIONAL INFORMATION PLEASE CONTACT US:
SMS: (708) 243-2727 or Email: roheritagecenter@gmail.com
*
WHAT:
The Board of Directors of the Romanian Heritage Center NFP
is pleased to welcome you to
VIP Romanian-American Businessmen's Meet-and-Greet
dinner & networking
on Friday, October 22, 2021 @ 7:30 PM.
SPECIAL GUESTS:
His Excellency ANDREI MURARU,
Ambassador of Romania to United States in Washington;
Honorable BEN ONI ARDELEAN,
Member of the Romanian Parliament and
Vicepresident of the Foreign Affairs Commission of the Chamber of Deputies in Romania;
Dr. Ing. CATALIN NAE,
President of the Board and CEO of INCAS
(National Institute for Aerospace Research "Elie Carafoli") of Bucharest;
together with His Excellency TIBERIU FLOREA TRIFAN,
Consul General of Romania in Chicago.
WHERE:
This Special Event is taking place at
the new VIP PREMIER LOUNGE
on the 3rd floor of prestigious COMPASS ARENA.
625 Joliet Rd., Willowbrook, IL 60527


RESERVATION & PRE-PAID TICKET REQUIRED
PARTICIPATION BASED ON PRE-PAID RESERVATIONS !
The only way to reserve your ticket is by purchasing one while available.
Once the limited capacity allowed has been reached, event will be sold-out,
and the link for the ticket sales will be deactivated.
Pre-paid cost of dinner & beverage is $ 50 /person (tax & tips for servers are included).
SEATS & TICKETS ARE LIMITED! (due to Covid regulations)
NO TICKET, NO ENTRY!

TICKETS FOR THIS EVENT ARE SOLD OUT!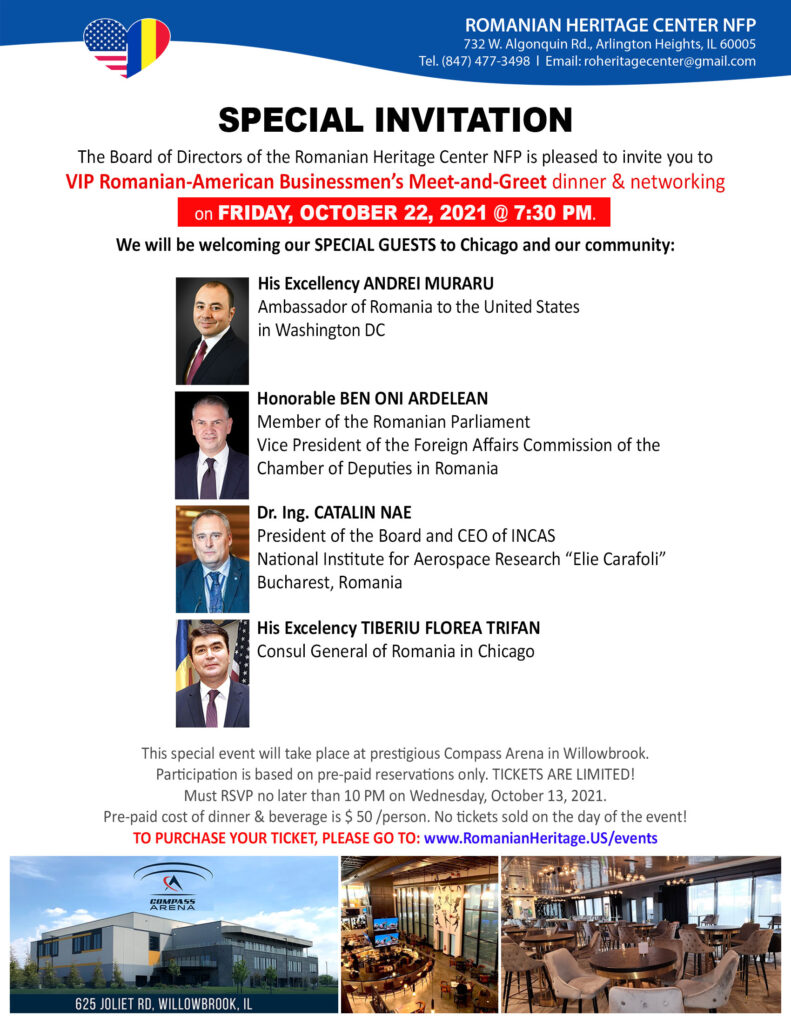 IMPORTANT:
You can save & share this invitation with your friends.
HOWEVER – PLEASE NOTE THAT ONCE TICKETS ARE SOLD AT CAPACITY WE WILL NOT BE ABLE TO SECURE ANYONE ANYMORE SEATS AND/OR ADMISSION TO THIS EVENT!
*
FOR ADDITIONAL INFORMATION PLEASE CONTACT US:
SMS: (708) 243-2727 or Email: roheritagecenter@gmail.com