Our New Building Project
BUILDING UNDER CONTRACT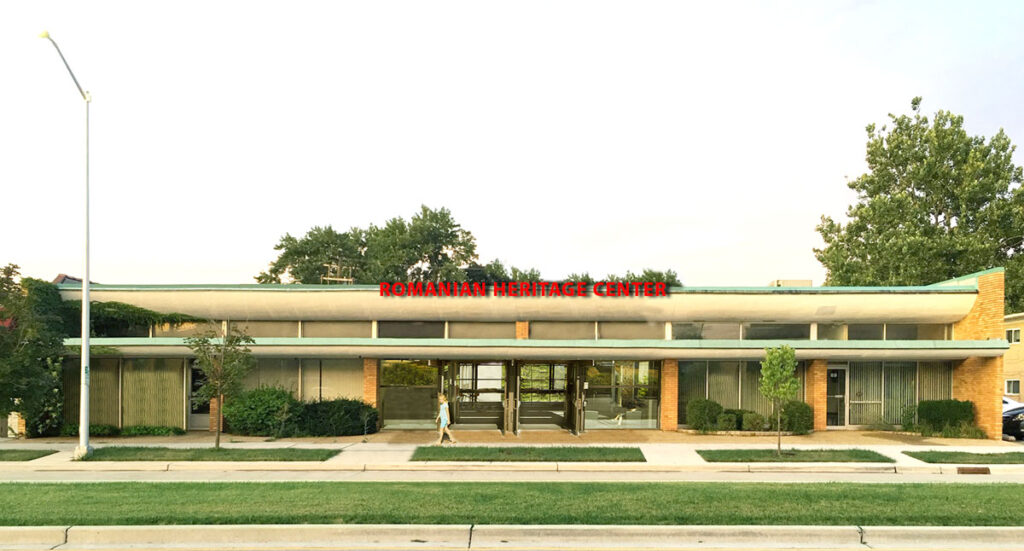 REVISED PROPOSED FLOOR PLAN – total of 8,000 sq. ft.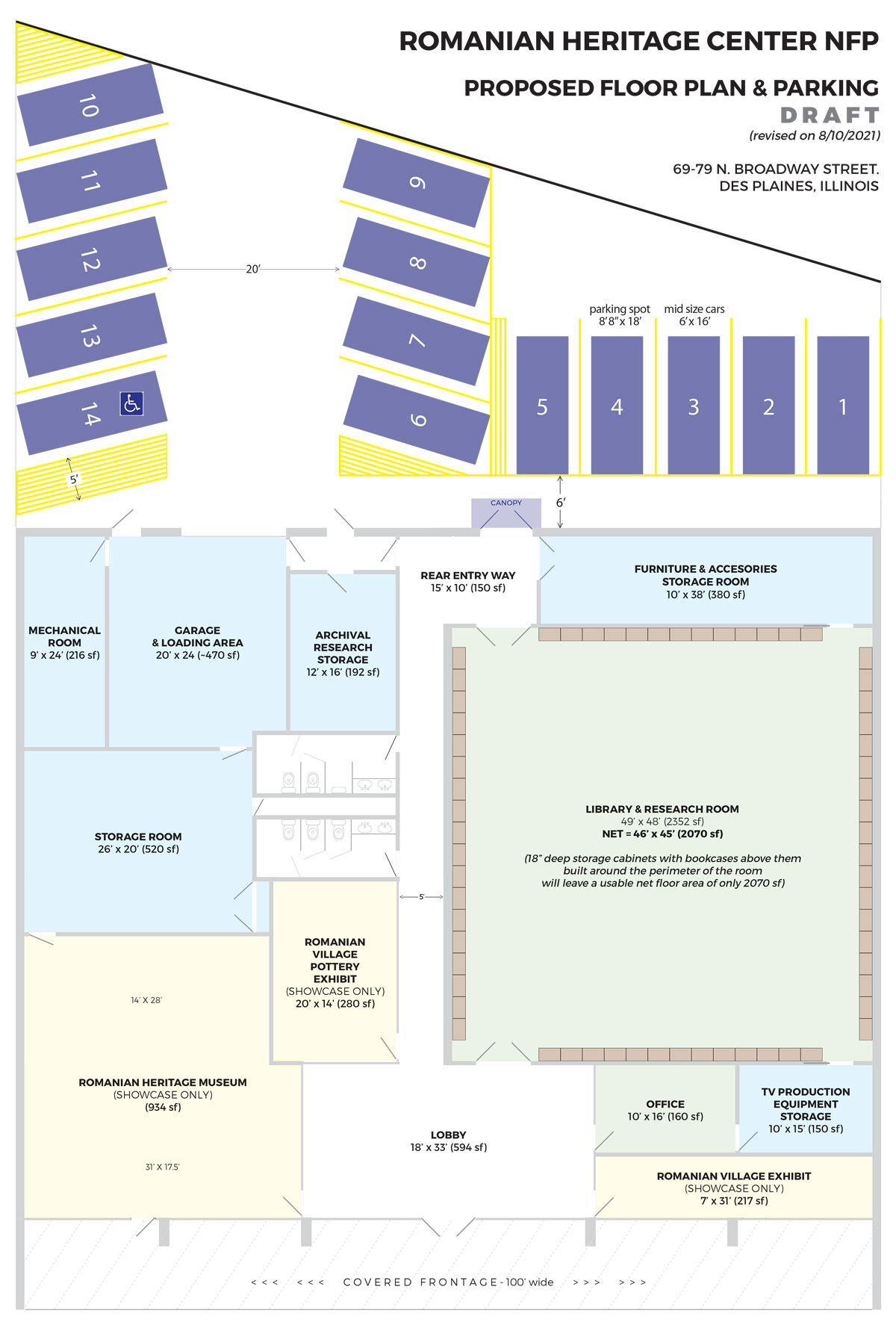 NEW FACILITIES WILL FEATURE:
Large welcoming lobby – imposing entry (~600 sq.ft.) with 14′ tall ceiling
Romanian Village Exhibit (~220 sq.ft.) a showcase with interior glass walls 14' high which is positioned prominently in the front part of the building, visible 24/7 from the street
Romanian Heritage Museum (~930 sq.ft.) a larger showcase enclosure that is also visible from the street, also with a 14′ high ceiling
Romanian Village Pottery Exhibit

(280 sq.ft.) another showcase enclosure with interior glass walls and 14′ high ceiling, exhibiting a collection of uniquely crafted items

Library & Research Room (net floor area of 2,070 sq.ft.) another room with 14' high ceiling and a plug-and-play multimedia system ready for sound and video projection from any mobile device or laptop to be used for training classes, tutoring, conferences, and seminars
Administrative office (160sq. ft.)
All new bathrooms
Ample storage – all storage rooms are also with 14' high ceilings
Ample Parking! – A total of as many as 80 spaces on weekends! Of Which 14 spaces on our property, plus 5 spaces on the street right in front of the building (available to public on first-come-first-served basis), and ample additional parking available during evenings and weekends, both on-street (however – only on Broadway Street and absolutely not on residential streets in the vicinity) as well as on other few private parking lots by specific consent of neighboring businesses and at the nearby Romanian Church.
LOCATION, LOCATION, LOCATION!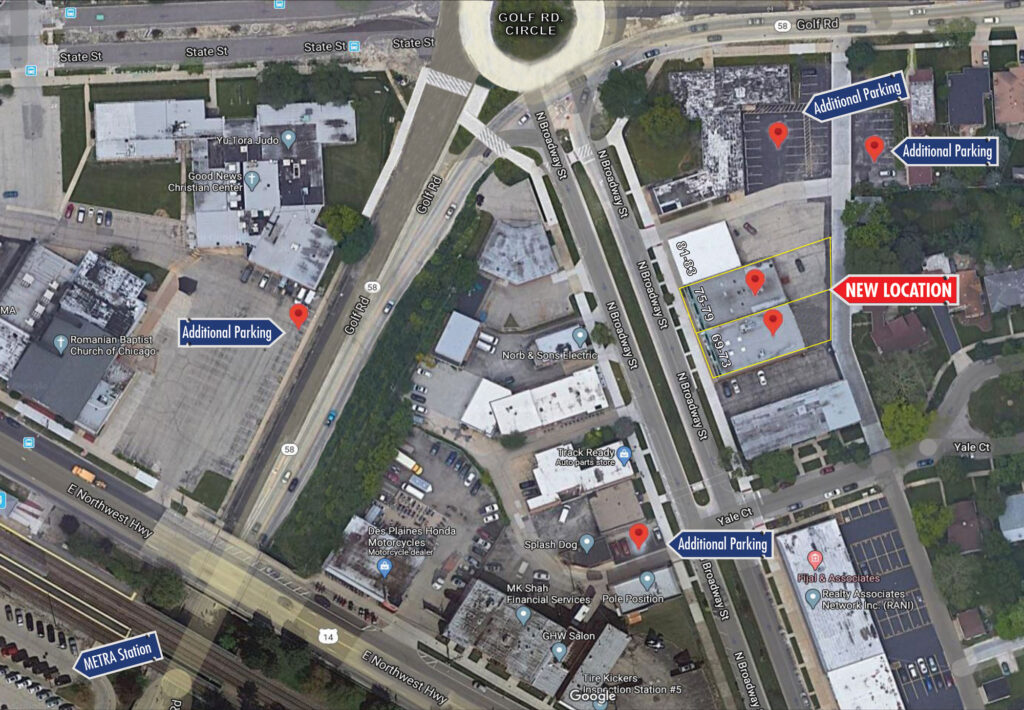 METRA CUMBERLAND (DES PLAINES) STATION is within walking distance – and this is a huge value to our project, as it will enable our visitors to use public transportation from downtown Chicago.

INVITING CURB APPEAL!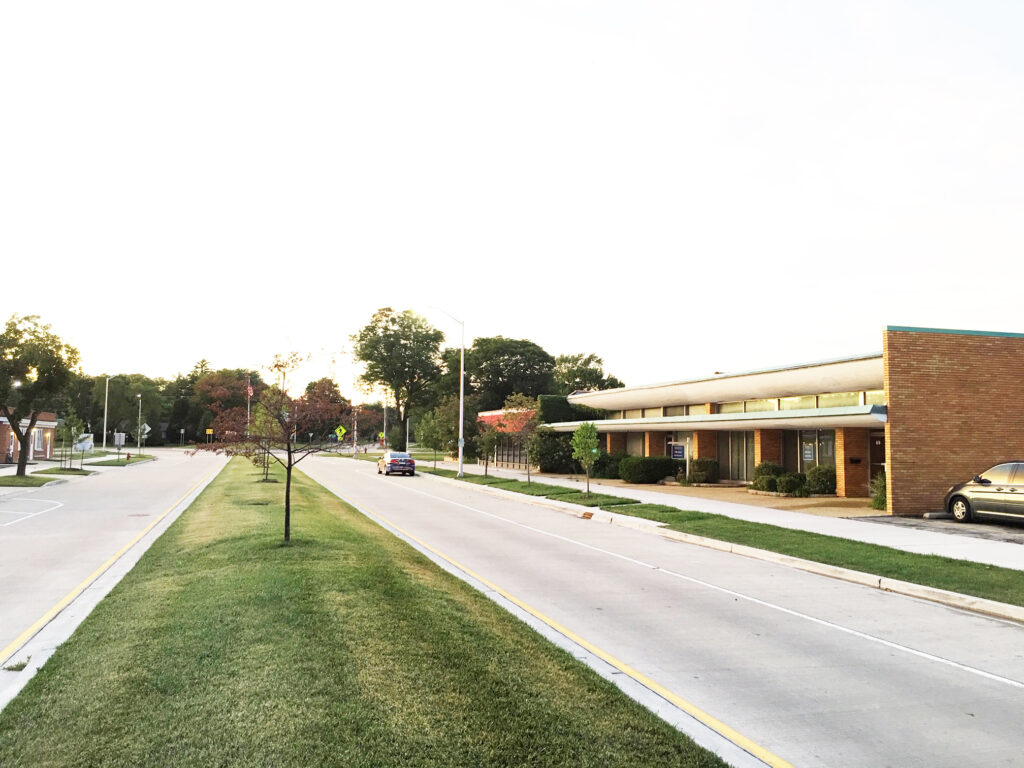 Broadway Street and the Golf Rd. circle round-about have been completely reconstructed and beautified in the last couple years. Broadway Street now offers the public ample street parking, on a first-come first-served basis.