WHO WE ARE
The Romanian Heritage Center NFP was incorporated on July 1st 2020
as a new independent faith-based religious, civic, and cultural organization
that is a spin-off of Romanian-American Network Inc. (Ro-Am.Net),
benefiting and building on its achievements, recognition, and reputation.
The Romanian-American Network was established in summer of 1995, as a
Romanian-American ethnic publishing house specialized in community outreach,
marketing, mass communication and networking.

Through its almost 27 years of service, Ro-Am.Net specialized in community outreach, networking, and mass communication. It became widely known across the United States and abroad for creating valuable projects like:
Center Focus Magazine
Romanian-American Yellow Pages
Romanian Impact Magazine
Romanian Tribune Newspaper (Now in its 21st year!)
Romanian Heritage Festival
Romanian Business Referral Network
Romanian Library & Research Center
Coalition for Family, Faith and Life of Romanians in America
Romanian Churches & Religious Organizations Network "BISERICI.US"
Directory of Ethnic and Multicultural Publishers, Distributors and Resource Organizations (2003) – for the American Library Association's Ethnic and Multicultural Information Exchange Round Table (EMIERT).
Ro-Am.Net organized and hosted numerous cultural and community outreach events, networking meetings, educational and informative seminars.

We partnered over the years with other organizations, such as:
American Library Association – New York, NY
"Cenaclul RETRO" Cultural Organization – Chicago area
Credo TV Romanian International Media Ministries – Chicago, IL
Honorary Consulate of Republic of Moldova – Hickory, NC
Little Samaritan Radio – Chisinau, Republic of Moldova
Logos Christian Academy – Niles, IL
Logos School of Music – Niles, IL
ProTV Romanian International Television – Bucharest, Romania
Romanian Book Club – Niles, IL
RoStage Theatre Co. – Niles, IL
RTN Chicago Romanian Christian Television – Chicago, IL
TVRi Romanian International Television – Bucharest, Romania

as well as official entities representing Romania and Republic of Moldova:
Consulate General of Romania in Chicago
Embassy of Romania in United States – Washington, DC
Embassy of Romania at the United Nations – New York, NY
Embassy of Republic of Moldova in United States – Washington, DC
Romanian Government's Department for Relations with Romanians Abroad – Bucharest, Romania
The founders of Ro-Am.Net, having successfully passed the test of time, integrity, and dedication to the community, initiated the idea of creating the Romanian Heritage Center as a Christian faith based neutral independent community center.

The Ro-Am.Net will continue with its mass communication and media projects as a completely separate media organization than the Romanian Heritage Center.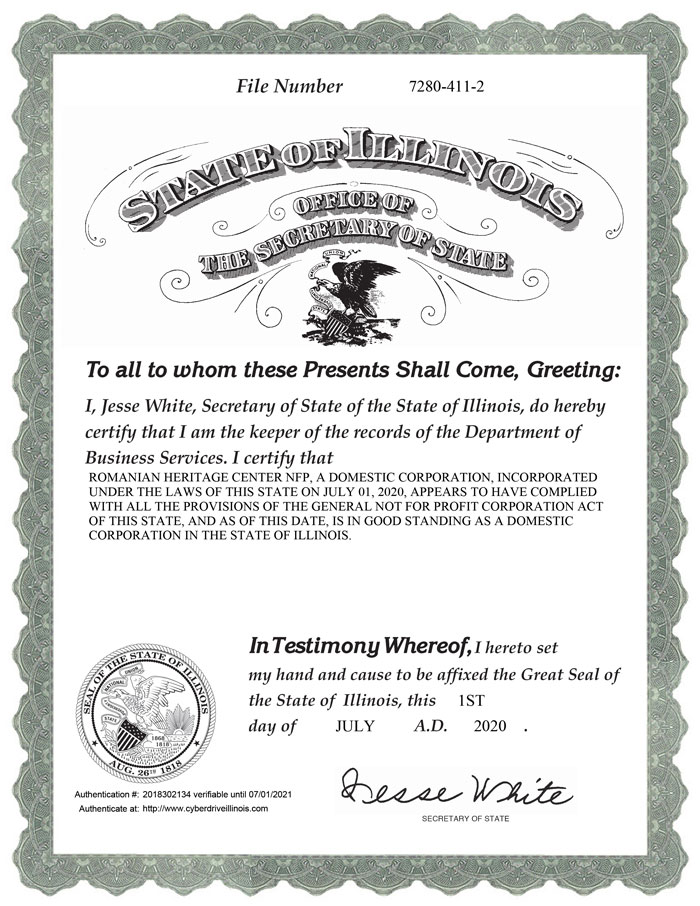 Being set up as a new and independent not-for-profit organization, the Romanian Heritage Center's leadership team includes professionals who represent all the Christian denominations of our community, all willing to serve the next generation of Romanian-Americans, those born, raised, and educated in the United States.
The Romanian Heritage Center NFP, as a faith based religious, civic and cultural organization, will dedicate its efforts to preserve and advance Romanian Christian heritage and ethnic awareness, through various programs and activities as described in our Purposes.
The Romanian Heritage Center NFP aims to be of service not only to the ethnic Romanian-Americans but also to anyone wishing to know more about our culture and traditions.
We are committed to provide exceptional service and a great experience to all who wish to connect with us.